This detachable unit upgrades your standard gas mask to a powered air-purifying respirator (PAPR mask) that uses an integrated blower instead of lung power for improved airflow and positive pressure within your gas mask. 
MIRA Safety's PAPR is based on an enhanced design from the Israeli Defence Forces (IDF), modified to use standard AA batteries, and available at a third of the closest competitor's price. Anyone will breathe more easily and comfortably while wearing a PAPR respirator. Still, it's ideal for those with a limited lung capacity who may not otherwise be able to wear a mask.
NEW: Check out our Blog Post in Considerations for Full Face Gas Masks for more information.
Key Features of the MB-90 PAPR: 
Compact, lightweight blower mounts to your belt or pack, then connects to your gas mask via a standard 40mm NATO hose
Compatible with any traditional 40mm NATO threaded gas mask
Filters attach directly to the PAPR unit instead of the gas mask for improved mobility
Slim form allows for use in tight/confined spaces
Originally developed by the Israeli Ministry of Defense for rugged, combat-ready use
Adapted by an Israeli defense contractor to meet MIRA Safety specifications, with improved components and housing
Provides up to 90 l/min of sustained airflow
***PRE-ORDER ALERT! - These Powered Air Purifying Respirators will be landing in Canada in January 2022. We have turned these products on in the meantime, and shipments will go out in the order they were made. By ordering below you are agreeing to wait until January to receive shipping confirmation on your product.***
Uses affordable, easy-to-find AA batteries (up to 12 hours from 8 batteries)
Impact-resistant polycarbonate design for rugged performance
The MIRA Safety MB-90 Powered Air Purifying Respirator fundamentally transforms and improves the way any gas mask works …
With any standard gas mask, including our MIRA Safety CM-6M and CM-7M, your lung power pulls air through the filter that removes toxins and potential threats.
That sounds simple, but in practice, it's not always so easy. Filters increase breathing resistance, and any negative pressure gas mask will cause you to tire faster than you would without one. It can be distracting, but worse still—not everyone has the lung power to use a negative pressure gas mask. 
Children, those with respiratory issues, or anyone who can't blow up a large balloon can't use most gas masks. Not to mention, the added weight of strapping filters to your face can make wearing a gas mask cumbersome over time. 
The design of our new powered air-purifying respirator addresses all of those issues.
Weighing just 1.8lb on its own, our PAPR straps to your belt and uses two 40mm CBRN filters. Then, the hose connects directly to your mask, reducing your mask's overall weight for improved mobility. Switch the blower on, and the unit instantly provides 90 liters/min of airflow drawn through the attached filters.
As a result, you'll have an easier time breathing, maneuvering, and doing practically anything with your gas mask. The unit can still be used if the batteries are fully depleted, but it reverts to a standard negative pressure system. With a quick swap of the AA battery unit, it's right back in action.
Even more importantly, a powered air-purifying respirator can potentially make your mask even safer by creating a positive pressure environment inside the mask…
By feeding such a high rate of airflow directly into your gas mask, our PAPR becomes a positive pressure respirator that creates an additional layer of protection around the edges of your mask, ensuring that dangerous particles are kept out. 
This is the same principle that helps PAPR hoods work, even though they don't have the additional seal you get from a CBRN gas mask.
Our MB-90 PAPR is a direct upgrade from the Israeli military issue, with multiple improvements and a modified battery bay that will work with AA batteries that you can find practically anywhere. Eight AA batteries provide up to 12 hours of runtime.
Most PAPR's on the market work only with NiMH and LiSO2 batteries, which are prohibitively expensive and difficult to find. The MB-90 PAPR works with all three for ultimate flexibility.  
Standard PAPR Kit Includes:
 MB-90 PAPR
40mm NATO threaded hose
Body rig
Belt
MB-90 PAPR Technical Specifications:
Weight (with batteries): 809 grams (28.9 ounces) 
Power supply: 8 x AA batteries (also compatible with NiMH and LiSO2 batteries) 
Airflow: 90 l/min. at overall resistance of up to 65mm water 
Operating time (without replacing batteries): Up to 12 hours 
Shelf life: 10 years 
PLEASE NOTE: The MB-90 does not come with filters. Filters of choice must be purchased separately. 
Warranty
Warranty periods and warranty services are intended as a guide only and variations may occur by manufacturers. The warranty period commences upon the date of purchase by the original purchaser with the original proof of purchase and continues for the following specified period of time after that date. Warranty covers manufacturing defects only. Please note that this does not include wear and tear, and consumables items such as chargers, batteries and bulbs. Warranty and repair times vary by manufacturer and may not be available immediately. 
Manufacturer Warranty: Mira Safety
The MIRA Safety brand is built on its reputation for producing durable, strong, supreme-quality products to a niche market of customers who insist on the highest quality of tactical, protective and safety gear. So, it is almost impossible that you will experience subpar quality. However, should this happen to you, we will make it our business to make it right as a matter of urgency.
Please note the following points concerning product warranty:
All MIRA Safety products come with a standard 1-year warranty, which can be extended on select products if you register your purchase within 30 days of receipt.
If any of our products ever malfunction or present technical issues, fill out and submit the claim form below; we will contact you if there is any outstanding information.
If a malfunctioning or faulty product was not purchased on this website, we require a dated proof of purchase in order to submit your claim.
Products must have been purchased from MIRA Safety or a MIRA Safety authorized retailer for the warranty program to apply.
Normal wear and tear, damage due to misuse, unauthorized aftermarket alteration to the product, or negligence will render the warranty void. 
The warranty on MIRA safety products applies to the original purchase of the mask. Warranties are non-transferable.
Manufacturer's Warranty: Milburn Mountain Defense
Nylon - all nylon has a lifetime guarantee, if there is a defect or it is just not functioning the way you thought it would please feel free to contact us and return to have it replaced/fixed or exchanged. We want you to be happy with the product you purchased and be able to wear it proudly.
Hard Armour - all hard armour plates have a 5 Year warranty in which the date of manufacture is indicated on the label of each plate.
MILITARY GRADE,
CIVILIAN GEARED.
Iridium Solutions and The Iridium Group have pulled in subject matter experts to provide Training Content, Emergency Preparedness and Tactical Equipment to civilians, first responders and law enforcement professionals within Canada and abroad. Our scope of technical competencies covers a broad array of skills and TTPs (Tactics, Techniques & Procedures) to assist you in becoming the Hero of your story, when times are dire and the chips are down. Count on us to plus up your gear and abilities. We've got your six.
TRUSTED BY

PROFESSIONALS

ALL OVER THE GLOBE
At Iridium Solutions and The Iridium Group, we understand the challenges faced by Military Forces, HAZMAT (Hazardous Materials) crews, Emergency Response Teams, Law Enforcement, and Civilians preparing for the most difficult and sometimes extreme circumstances. We have established firm relationships with global agencies to procure knowledge and equipment that helps provide solutions to complex technical problems. We trust our own lives to the training and products we provide – and we feel confident in providing them to you.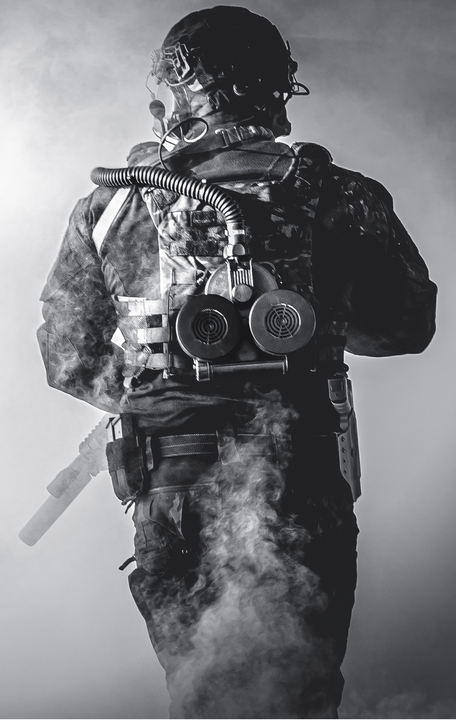 OUR 

MISSION
Our story doesn't matter. This isn't about us. It's about YOU.
Your Story matters.
You see in us something that you want to be able to add to your story. Something to make a part of your ability to navigate times of crisis and stress. 
Our mission is to assist you in adding that to your skillset, so that it can become a part of Your Story.
At the Iridium Group, we are committed to making the world a better place for each of you – our clients, by providing knowledge, skills and equipment that you can use and incorporate to become the hero in the story of your life.

WHY CHOOSE

THE IRIDIUM GROUP

AS YOUR PARTNER IN PREPAREDNESS?

COMFORT & FLEXIBILITY
Some things are meant to be comfortable - some are meant to be COMFORTING.
QUALITY MANUFACTURING
Products that Perform in Harsh Conditions.
TRUSTED BY PROFESSIONALS
In use by Professionals around the Globe.
FIELD PERFORMANCE
Hard Use Gear, Tested and Vetted in the field.