***Please note: Mira Safety issued an email on 04FEB2022 stating that their supply of VK-450 filters was exhausted. They are currently on back order, with delivery estimates of May as of now. We are working with Mira to ensure adequate stock is on hand for wildfire season, and back orders will be filled first when stock arrives. Thanks for your understanding.***

Transform your gas mask into a reliable, fully functioning multi-use smoke hood with these VK-450 filters. Designed to overcome smoke & particulates (along with high concentrations of carbon monoxide), these advanced filters provide crucial hours of protection and clean air from some of the most common disasters faced by US citizens. Grab a few VK-450 filters for your family today!
Key Features:
Proven design provides comprehensive protection from a wide range of NBC threats, smoke and particulates.

Smoke respirator mask filter can be used in environments with as little as 19.5% oxygen.

Can be used at temperatures ranging from -40°С to +40°С.

Protection from ammonia, acetonitrile, hydrogen fluoride, hydrogen chloride, sulfur dioxide, hydrogen sulfide, hydrogen cyanide, phosgene, chlorine, chloropicrin, nitrogen oxides.

Each filter is vacuum-sealed and clearly labeled with its expiration date.

Long-lasting 13.5-year shelf life.

Manufacturer's warranty ensures filters perform to specifications.
Turn Your Gas Mask into a Respirator for Smoke with the VK-450
Wildfires are a constant threat to the Western United States—where thousands of citizens may be forced to evacuate at a moment's notice through choking clouds of smoke and searing heat. Meanwhile, over 71,000 homes are lost in structure fires every year, according to studies from the National Fire Protection Association (NFPA). Yet, few own escape respirators or fire protection hoods.
That means that fire poses an immediate threat to millions of unprepared American families. That's where our VK-450 gas mask filters come in. 
While most conventional gas masks and filters can protect you from hundreds of nuclear, biological and chemical threats, the VK-450 is one of just a few filters that can also protect you from carbon monoxide and minimize the risk of smoke inhalation. The VK-450 helps to convert CO into CO2, allowing you to breathe it out. So, instead of also keeping a single-use fire/smoke hood on hand, you can use your existing gas mask for smoke protection in case of a house fire or wildfire.
Of course, these filters still provide full protection from NBC threats, and they sport a truly impressive 13.5-year shelf life. They come individually packaged and are easy to stack, store and manage. 
If you've got a gas mask, or if you're thinking about getting one, don't overlook these flexible filters. Scroll down to check out the full details:
 VK-450 technical specifications are as follows:



– initial filter resistance to constant airflow at a volume flow rate of

30 dm3/min, Pa (mm water column), max

206 (21.0)

– initial filter resistance to constant airflow at a volume flow rate of 95 dm3/min, Pa (mm water column), max

820 (83.7)

– filter breakthrough time measured by test substances, minutes, minimum:

• cyclohexane at a concentration of (3.5 ± 0.4) mg/dm3

90

• hydrogen cyanide at a concentration of (5.6 ± 0.5) mg/dm3

50

• hydrogen sulfide at a concentration of (7.1 ± 0.7) mg/dm3 

60

• chlorine at a concentration of (15.0 ± 1.5) mg/dm3

20

• sulfur dioxide at a concentration of (13.3 ± 1.3) mg/dm3 

20

• ammonia at a concentration of (0.7 ± 0.1) mg/dm3

120

• mercury vapors at a concentration of (0.013 ± 0.001) mg/dm3

100 h

• nitrogen monoxide at a concentration of (3.1 ± 0.3) mg/dm3

20

• nitrogen dioxide at a concentration of (4.8 ± 0.4) mg/dm3

20

• carbon monoxide at a concentration of (6.2 ± 0.6) mg/dm3

20

• cyanogen chloride at a concentration of (5.0 ± 0.5) mg/dm3

40

• dimethyl ether at a concentration of (0.95 ± 0.1) mg/dm3

30

• isobutane at a concentration of (6.0 ± 0.6) mg/dm3

25

Storage
VK-450 filters should be stored at −50°F to +120°F with maximum humidity not exceeding 98%. VK-450 filters should not be exposed to impact, hazardous gases or vapors. 
Warranty
Warranty periods and warranty services are intended as a guide only and variations may occur by manufacturers. The warranty period commences upon the date of purchase by the original purchaser with the original proof of purchase and continues for the following specified period of time after that date. Warranty covers manufacturing defects only. Please note that this does not include wear and tear, and consumables items such as chargers, batteries and bulbs. Warranty and repair times vary by manufacturer and may not be available immediately. 
Manufacturer Warranty: Mira Safety
The MIRA Safety brand is built on its reputation for producing durable, strong, supreme-quality products to a niche market of customers who insist on the highest quality of tactical, protective and safety gear. So, it is almost impossible that you will experience subpar quality. However, should this happen to you, we will make it our business to make it right as a matter of urgency.
Please note the following points concerning product warranty:
All MIRA Safety products come with a standard 1-year warranty, which can be extended on select products if you register your purchase within 30 days of receipt.
If any of our products ever malfunction or present technical issues, fill out and submit the claim form below; we will contact you if there is any outstanding information.
If a malfunctioning or faulty product was not purchased on this website, we require a dated proof of purchase in order to submit your claim.
Products must have been purchased from MIRA Safety or a MIRA Safety authorized retailer for the warranty program to apply.
Normal wear and tear, damage due to misuse, unauthorized aftermarket alteration to the product, or negligence will render the warranty void. 
The warranty on MIRA safety products applies to the original purchase of the mask. Warranties are non-transferable.
Manufacturer's Warranty: Milburn Mountain Defense
Nylon - all nylon has a lifetime guarantee, if there is a defect or it is just not functioning the way you thought it would please feel free to contact us and return to have it replaced/fixed or exchanged. We want you to be happy with the product you purchased and be able to wear it proudly.
Hard Armour - all hard armour plates have a 5 Year warranty in which the date of manufacture is indicated on the label of each plate.
MILITARY GRADE,
CIVILIAN GEARED.
Iridium Solutions and The Iridium Group have pulled in subject matter experts to provide Training Content, Emergency Preparedness and Tactical Equipment to civilians, first responders and law enforcement professionals within Canada and abroad. Our scope of technical competencies covers a broad array of skills and TTPs (Tactics, Techniques & Procedures) to assist you in becoming the Hero of your story, when times are dire and the chips are down. Count on us to plus up your gear and abilities. We've got your six.
TRUSTED BY

PROFESSIONALS

ALL OVER THE GLOBE
At Iridium Solutions and The Iridium Group, we understand the challenges faced by Military Forces, HAZMAT (Hazardous Materials) crews, Emergency Response Teams, Law Enforcement, and Civilians preparing for the most difficult and sometimes extreme circumstances. We have established firm relationships with global agencies to procure knowledge and equipment that helps provide solutions to complex technical problems. We trust our own lives to the training and products we provide – and we feel confident in providing them to you.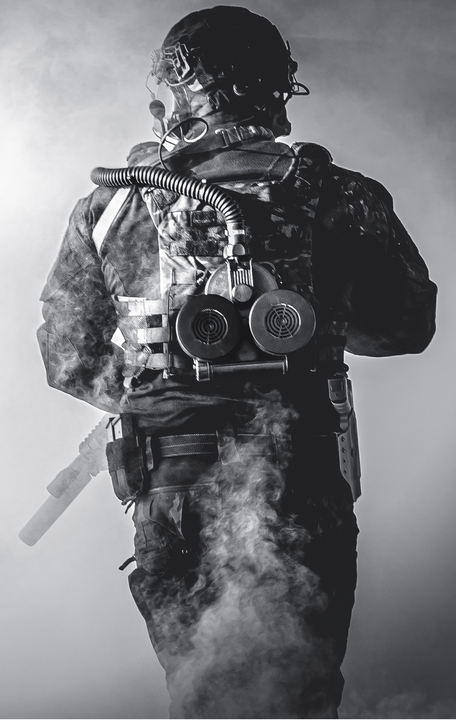 OUR 

MISSION
Our story doesn't matter. This isn't about us. It's about YOU.
Your Story matters.
You see in us something that you want to be able to add to your story. Something to make a part of your ability to navigate times of crisis and stress. 
Our mission is to assist you in adding that to your skillset, so that it can become a part of Your Story.
At the Iridium Group, we are committed to making the world a better place for each of you – our clients, by providing knowledge, skills and equipment that you can use and incorporate to become the hero in the story of your life.

WHY CHOOSE

THE IRIDIUM GROUP

AS YOUR PARTNER IN PREPAREDNESS?

COMFORT & FLEXIBILITY
Some things are meant to be comfortable - some are meant to be COMFORTING.
QUALITY MANUFACTURING
Products that Perform in Harsh Conditions.
TRUSTED BY PROFESSIONALS
In use by Professionals around the Globe.
FIELD PERFORMANCE
Hard Use Gear, Tested and Vetted in the field.