The Tactical Air-Purifying Respiratory mask (TAPR) is the first EN-140 certified half-face mask specifically designed for special operations, security actions, and rescue teams. Originally developed to suit the needs of the Czech Special Forces, the TAPR is designed to provide flexible, versatile protection for even the most challenging tactical situations.
Key features of the TAPR mask:
Innovative, shooter-friendly design proven by active-duty military
Uses widely available NATO-standard, 40-mm filter cartridges
Custom mesh head harness for standalone use
Optional FidLock buckle system for rapid deployment with helmets that use the popular ARC rail or M-LOK system
Compatible with popular riot control helmet systems, including MSA Gallet and Schuberth riot control helmets
Compatible with a wide variety of protective goggles, shields, and face masks
Comes with a hardened travel case
Ultralight construction (just over 4 oz. without filter)
Built from high-quality sanitary silicone rubber
Anatomical design and unique harness system provide true one-size-fits-all protection
Compatible with our proprietary MIRA Gas Mask Microphone (sold separately)
Ideal for use with one of three compact gas mask filters (P-CAN Compact, Particlemax P3 Compact, and NBC-17 SOF)
Dual exhalation valves for easy breathing during long hours of use
Can be cleaned with common disinfectants for regular/repeated use
The mask body has a 20-year shelf-life while the head harness and valves have a shelf-life of 10 years and 5 years respectively
Carries MIRA Safety's 1-year manufacturer warranty
Today's special forces and elite law enforcement professionals face an unprecedented range of threats in the field.
And compromising tactical effectiveness for protection simply isn't an option.
The TAPR is a modular half-face platform that can be configured to integrate with most popular helmet systems and communications gear. It's engineered for rapid deployment and reliable protection while preserving combat readiness and freedom of movement.
Designed to integrate seamlessly into your plate carrier, battle belt, or rig with the included pouch, the TAPR is often the best practical protection you can carry against a range of lethal and nonlethal threats.
What's in the box?
The standard TAPR Kit comes with the following:
Center Port TAPR Body
Made from silicone rubber for comfort, it has two exhalation ports and a central 40-mm NATO threaded filter connector.
Mesh Head Harness
ParticleMax P3 Compact Filter
P-CAN Compact Filter
Carry Case
Nylon Pouch
Low-Profile Exhalation Cap
The Minimalist Kit comes with:
Centre port body, head harness, Compact P3 filter and nylon pouch.
IMPORTANT NOTE: Half-face masks do not provide sufficient protection from CBRN threats, and the TAPR was NOT designed for prolonged exposure to unknown environments, blister agents, or toxic industrial chemicals. Selection of a suitable filter depends on the type and concentration of the anticipated toxic agent. The TAPR equipped with a TIC or CWA filter is only safe for use in an environment containing at least 19.5% oxygen. The principles of filter selection and application are described in the filter user guides.
TAPR Respirator Mask Technical Data:

Weight:                          120 g
Size:                               Universal Fit
Filter Connection:         EN 148-1, NATO STANAG 4155, 40×1/7"
Facepiece Material:      Silicone rubber
Color:                             Black
_______
Inhalation Resistance: 
30 l/min flow rate max. 15 Pa
160 l/min flow rate max. 135 Pa
TAPR Storage
The TAPR military half-face mask must be stored in a dark, cool, and dust-free location that's free from sudden temperature changes. The storage room should be ventilated regularly. Temperatures may vary between 5°C and 25°C with relative humidity up to 65%. Full-face gas masks must not be exposed to radiant heat or sunshine. Fuels, solvents, lubricants, and other inflammable substances, including chemicals, must not be stored with masks. Moreover, there must not be any electrical machines or appliances that produce sparks or discharges during operation (ozone creation).
Avoid deformation of the rubber parts of the facepiece during storage.
Warranty
Warranty periods and warranty services are intended as a guide only and variations may occur by manufacturers. The warranty period commences upon the date of purchase by the original purchaser with the original proof of purchase and continues for the following specified period of time after that date. Warranty covers manufacturing defects only. Please note that this does not include wear and tear, and consumables items such as chargers, batteries and bulbs. Warranty and repair times vary by manufacturer and may not be available immediately. 
Manufacturer Warranty: Mira Safety
The MIRA Safety brand is built on its reputation for producing durable, strong, supreme-quality products to a niche market of customers who insist on the highest quality of tactical, protective and safety gear. So, it is almost impossible that you will experience subpar quality. However, should this happen to you, we will make it our business to make it right as a matter of urgency.
Please note the following points concerning product warranty:
All MIRA Safety products come with a standard 1-year warranty, which can be extended on select products if you register your purchase within 30 days of receipt.
If any of our products ever malfunction or present technical issues, fill out and submit the claim form below; we will contact you if there is any outstanding information.
If a malfunctioning or faulty product was not purchased on this website, we require a dated proof of purchase in order to submit your claim.
Products must have been purchased from MIRA Safety or a MIRA Safety authorized retailer for the warranty program to apply.
Normal wear and tear, damage due to misuse, unauthorized aftermarket alteration to the product, or negligence will render the warranty void. 
The warranty on MIRA safety products applies to the original purchase of the mask. Warranties are non-transferable.
Manufacturer's Warranty: Milburn Mountain Defense
Nylon - all nylon has a lifetime guarantee, if there is a defect or it is just not functioning the way you thought it would please feel free to contact us and return to have it replaced/fixed or exchanged. We want you to be happy with the product you purchased and be able to wear it proudly.
Hard Armour - all hard armour plates have a 5 Year warranty in which the date of manufacture is indicated on the label of each plate.
MILITARY GRADE,
CIVILIAN GEARED.
Iridium Solutions and The Iridium Group have pulled in subject matter experts to provide Training Content, Emergency Preparedness and Tactical Equipment to civilians, first responders and law enforcement professionals within Canada and abroad. Our scope of technical competencies covers a broad array of skills and TTPs (Tactics, Techniques & Procedures) to assist you in becoming the Hero of your story, when times are dire and the chips are down. Count on us to plus up your gear and abilities. We've got your six.
TRUSTED BY

PROFESSIONALS

ALL OVER THE GLOBE
At Iridium Solutions and The Iridium Group, we understand the challenges faced by Military Forces, HAZMAT (Hazardous Materials) crews, Emergency Response Teams, Law Enforcement, and Civilians preparing for the most difficult and sometimes extreme circumstances. We have established firm relationships with global agencies to procure knowledge and equipment that helps provide solutions to complex technical problems. We trust our own lives to the training and products we provide – and we feel confident in providing them to you.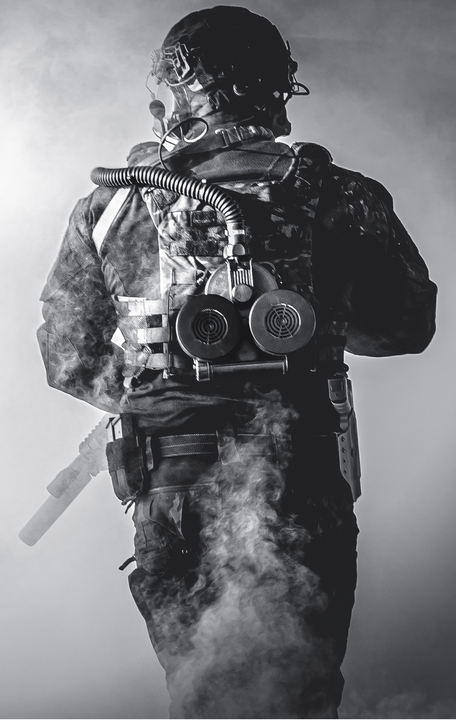 OUR 

MISSION
Our story doesn't matter. This isn't about us. It's about YOU.
Your Story matters.
You see in us something that you want to be able to add to your story. Something to make a part of your ability to navigate times of crisis and stress. 
Our mission is to assist you in adding that to your skillset, so that it can become a part of Your Story.
At the Iridium Group, we are committed to making the world a better place for each of you – our clients, by providing knowledge, skills and equipment that you can use and incorporate to become the hero in the story of your life.

WHY CHOOSE

THE IRIDIUM GROUP

AS YOUR PARTNER IN PREPAREDNESS?

COMFORT & FLEXIBILITY
Some things are meant to be comfortable - some are meant to be COMFORTING.
QUALITY MANUFACTURING
Products that Perform in Harsh Conditions.
TRUSTED BY PROFESSIONALS
In use by Professionals around the Globe.
FIELD PERFORMANCE
Hard Use Gear, Tested and Vetted in the field.