Tuff-Tie disposable Hand and Foot restraints are the most effective and versatile temporary restraints on the market. Tuff-Ties are safer and easier to use than cable tie type restraints. Cable ties and plastic restraints have sharp edges and are too rigid to carry easily. Tuff-Tie solves both of those problems. You can fit multiple Tuff-Ties in your pocket or in the bottom of any handcuff case. They are also constructed of high strength nylon braiding that has no sharp edges.
Tuff-tie is used by thousands of correctional and law enforcement agencies around the world.
Pre-threaded, ready to use and apply. The only disposable restraint that has a double locking feature.
Unlimited shelf life. Tuff-Tie is not affected by exposure to sunlight, temperature, or environmental conditions.
Flexible Tuff-Ties will not cut into skin or cut off circulation if applied properly.
Lightweight and easy to carry. TuffTies won't tangle in your pocket.
Non-metal teeth will not rust or corrode. The poly block is virtually indestructible.
Designed by a police officer for law enforcement use.
Every Tuff-Tie unit is tested prior to sale.
Tuff-Tie Foot Restraints are the only disposable restraints made specifically for feet. They offer added restraining power for the more difficult and dangerous situations. Same strength and features as the original Tuff-Tie, plus a longer end cord. Fast, one-piece application. A number of agencies now use Tuff-Tie foot restraints instead of hand restraints. They find the larger loops to be more convenient with a prisoner who is resisting.

Tuff-Tie Specifications:

Cord tensile strength:

 

over 500 pounds.
Cord Material:

 

flat diamond braided nylon.
Locking block material:

 

reinforced poly-carbonate.
Assembly weight:

 

only 8 grams (1/4 ounce).
Loop circumference:

 

12 inches (each side)
Made in USA
THE ONLY NYLON BRAID DISPOSABLE RESTRAINT ON THE MARKET
Five distinct advantages separate TUFF-TIES from all the competition:
The most easily carried and concealed restraint available, by far.
Soft conforming fit naturally reduces prisoner injury.
Unsurpassed breaking strength of 800 lbs. when used as directed.
Unlimited shelf life.
Completely unaffected by weather extremes.
Several pairs can easily fit into a shirt pocket or rolled into the tops of socks. They are a lightweight and uniquely simple device that employs a patented polycarbonate locking block.
Especially popular with plainclothes, narcotic, and SWAT units, we are proud to offer a complete line of Hand, Foot, and Prisoner Transport Hobbles to complement your unit's tactical and patrol equipment inventory.
Demonstrating our restraint's versatile field application are high volume sales to all federal law enforcement agencies and branches of the military. These agencies include:
Customs & Border Protection
Immigration & Customs Enforcement (ICE)
Transportation Security Administration (TSA)
US Coast Guard
US Secret Service
Office of Inspector General
US Park Police
DEA
IRS
US Marshals Service
TUFF-TIE sales have markedly increased in commercial aviation markets where aircraft safety often begins with passenger restraint.
Because our restraints contain no metal parts, they are especially advantageous in prisoner, inmate, or EMS patient transfer where metal detecting devices are operating.
Warranty
Warranty periods and warranty services are intended as a guide only and variations may occur by manufacturers. The warranty period commences upon the date of purchase by the original purchaser with the original proof of purchase and continues for the following specified period of time after that date. Warranty covers manufacturing defects only. Please note that this does not include wear and tear, and consumables items such as chargers, batteries and bulbs. Warranty and repair times vary by manufacturer and may not be available immediately. 
Manufacturer Warranty: Mira Safety
The MIRA Safety brand is built on its reputation for producing durable, strong, supreme-quality products to a niche market of customers who insist on the highest quality of tactical, protective and safety gear. So, it is almost impossible that you will experience subpar quality. However, should this happen to you, we will make it our business to make it right as a matter of urgency.
Please note the following points concerning product warranty:
All MIRA Safety products come with a standard 1-year warranty, which can be extended on select products if you register your purchase within 30 days of receipt.
If any of our products ever malfunction or present technical issues, fill out and submit the claim form below; we will contact you if there is any outstanding information.
If a malfunctioning or faulty product was not purchased on this website, we require a dated proof of purchase in order to submit your claim.
Products must have been purchased from MIRA Safety or a MIRA Safety authorized retailer for the warranty program to apply.
Normal wear and tear, damage due to misuse, unauthorized aftermarket alteration to the product, or negligence will render the warranty void. 
The warranty on MIRA safety products applies to the original purchase of the mask. Warranties are non-transferable.
Manufacturer's Warranty: Milburn Mountain Defense
Nylon - all nylon has a lifetime guarantee, if there is a defect or it is just not functioning the way you thought it would please feel free to contact us and return to have it replaced/fixed or exchanged. We want you to be happy with the product you purchased and be able to wear it proudly.
Hard Armour - all hard armour plates have a 5 Year warranty in which the date of manufacture is indicated on the label of each plate.
MILITARY GRADE,
CIVILIAN GEARED.
Iridium Solutions and The Iridium Group have pulled in subject matter experts to provide Training Content, Emergency Preparedness and Tactical Equipment to civilians, first responders and law enforcement professionals within Canada and abroad. Our scope of technical competencies covers a broad array of skills and TTPs (Tactics, Techniques & Procedures) to assist you in becoming the Hero of your story, when times are dire and the chips are down. Count on us to plus up your gear and abilities. We've got your six.
TRUSTED BY

PROFESSIONALS

ALL OVER THE GLOBE
At Iridium Solutions and The Iridium Group, we understand the challenges faced by Military Forces, HAZMAT (Hazardous Materials) crews, Emergency Response Teams, Law Enforcement, and Civilians preparing for the most difficult and sometimes extreme circumstances. We have established firm relationships with global agencies to procure knowledge and equipment that helps provide solutions to complex technical problems. We trust our own lives to the training and products we provide – and we feel confident in providing them to you.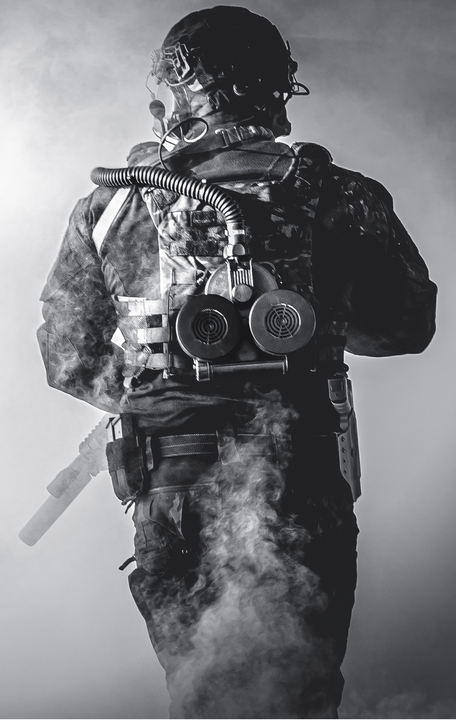 OUR 

MISSION
Our story doesn't matter. This isn't about us. It's about YOU.
Your Story matters.
You see in us something that you want to be able to add to your story. Something to make a part of your ability to navigate times of crisis and stress. 
Our mission is to assist you in adding that to your skillset, so that it can become a part of Your Story.
At the Iridium Group, we are committed to making the world a better place for each of you – our clients, by providing knowledge, skills and equipment that you can use and incorporate to become the hero in the story of your life.

WHY CHOOSE

THE IRIDIUM GROUP

AS YOUR PARTNER IN PREPAREDNESS?

COMFORT & FLEXIBILITY
Some things are meant to be comfortable - some are meant to be COMFORTING.
QUALITY MANUFACTURING
Products that Perform in Harsh Conditions.
TRUSTED BY PROFESSIONALS
In use by Professionals around the Globe.
FIELD PERFORMANCE
Hard Use Gear, Tested and Vetted in the field.