A dynamic combination of the third-generation Endura® one-piece handle design and the ultra-corrosion-resistant properties of H-1 steel, the original Pacific Salt was an incredibly capable full-service folding knife. The original black-bladed model endured extensive military testing to become an issue item in aircrew survival kits.
Following that proud tradition, the Pacific Salt 2 Black Blade includes a high-traction Bi-Directional Texture™ pattern, enhanced handle ergonomics, and a versatile four-position pocket clip. In addition to these features, this knife integrates an H-1 blade with a linerless handle and a non-reflective titanium carbonitride (TiCN) blade coating and matching black coatings on its clip and hardware. This knife was born to perform in and around the water.
Model: C91SBBK2
Manufactured by: Spyderco Knives
In 2009, Spyderco added a version of the black-handled PlainEdge Pacific with a low-profile titanium carbonitride-coated blade and lock bar. This version of the knife was also the gateway to the Pacific Salt's widespread use among members of the U.S. military. When NAVAIR/NAWCAD (Naval Air Systems Command/Naval Air Warfare Center Aircraft Division) was looking for a folding knife to include in the survival kits of Navy and Marine Corps aviation personnel, Spyderco submitted the black-bladed Pacific Salt for consideration. It underwent rigorous testing at the Navy's Survival, Escape, Resistance, and Evasion (SERE) School East in Kittery, Maine.
Despite the fact that it was significantly lighter than its competition, it outperformed them all and was ultimately approved for official issue to U.S. Naval and Marine Corps aviation units. It continues to serve proudly worldwide in that role.
Developed by Myodo Corporation in Japan, H-1 is an ultra-corrosion-resistant material ideally suited to use in knife blades. Unlike traditional steels, which are produced by adding carbon to iron, H-1 uses nitrogen instead of carbon to create its steel-like properties. H-1 is also an austenitic steel that does not require the hardening and tempering processes of conventional martensitic steels. Instead, the mechanical processes used to shape the steel and ultimately the blades themselves "work harden" it. Those areas—like the cutting edge—that are "worked" the most become the hardest. This actually leaves the center and spine of the blade softer, more ductile, and more resilient, replicating the "differential hardness" typically only found on hand-forged blades or traditional clay-tempered Samurai swords. The result is a blade that holds an excellent edge, is incredibly strong and flexible, and offers extreme resistance to corrosion.
Overall Length
8.72" (221mm)
Blade Length
3.78" (96mm)
Steel
H-1 (Rust Proof)

Closed Length
4.98" (126mm)
Edge Length
3.39" (86mm)
Weight
2.9oz (82g)
Blade Thickness
0.114" (2.9mm)
Handle
FRN
Clip Position
Ambidexterous
Tip Carry Position
4-position
Lock Type
Back Lock
Grind
Spyderedge

Warranty
Warranty periods and warranty services are intended as a guide only and variations may occur by manufacturers. The warranty period commences upon the date of purchase by the original purchaser with the original proof of purchase and continues for the following specified period of time after that date. Warranty covers manufacturing defects only. Please note that this does not include wear and tear, and consumables items such as chargers, batteries and bulbs. Warranty and repair times vary by manufacturer and may not be available immediately. 
Manufacturer Warranty: Mira Safety
The MIRA Safety brand is built on its reputation for producing durable, strong, supreme-quality products to a niche market of customers who insist on the highest quality of tactical, protective and safety gear. So, it is almost impossible that you will experience subpar quality. However, should this happen to you, we will make it our business to make it right as a matter of urgency.
Please note the following points concerning product warranty:
All MIRA Safety products come with a standard 1-year warranty, which can be extended on select products if you register your purchase within 30 days of receipt.
If any of our products ever malfunction or present technical issues, fill out and submit the claim form below; we will contact you if there is any outstanding information.
If a malfunctioning or faulty product was not purchased on this website, we require a dated proof of purchase in order to submit your claim.
Products must have been purchased from MIRA Safety or a MIRA Safety authorized retailer for the warranty program to apply.
Normal wear and tear, damage due to misuse, unauthorized aftermarket alteration to the product, or negligence will render the warranty void. 
The warranty on MIRA safety products applies to the original purchase of the mask. Warranties are non-transferable.
Manufacturer's Warranty: Milburn Mountain Defense
Nylon - all nylon has a lifetime guarantee, if there is a defect or it is just not functioning the way you thought it would please feel free to contact us and return to have it replaced/fixed or exchanged. We want you to be happy with the product you purchased and be able to wear it proudly.
Hard Armour - all hard armour plates have a 5 Year warranty in which the date of manufacture is indicated on the label of each plate.
MILITARY GRADE,
CIVILIAN GEARED.
Iridium Solutions and The Iridium Group have pulled in subject matter experts to provide Training Content, Emergency Preparedness and Tactical Equipment to civilians, first responders and law enforcement professionals within Canada and abroad. Our scope of technical competencies covers a broad array of skills and TTPs (Tactics, Techniques & Procedures) to assist you in becoming the Hero of your story, when times are dire and the chips are down. Count on us to plus up your gear and abilities. We've got your six.
TRUSTED BY

PROFESSIONALS

ALL OVER THE GLOBE
At Iridium Solutions and The Iridium Group, we understand the challenges faced by Military Forces, HAZMAT (Hazardous Materials) crews, Emergency Response Teams, Law Enforcement, and Civilians preparing for the most difficult and sometimes extreme circumstances. We have established firm relationships with global agencies to procure knowledge and equipment that helps provide solutions to complex technical problems. We trust our own lives to the training and products we provide – and we feel confident in providing them to you.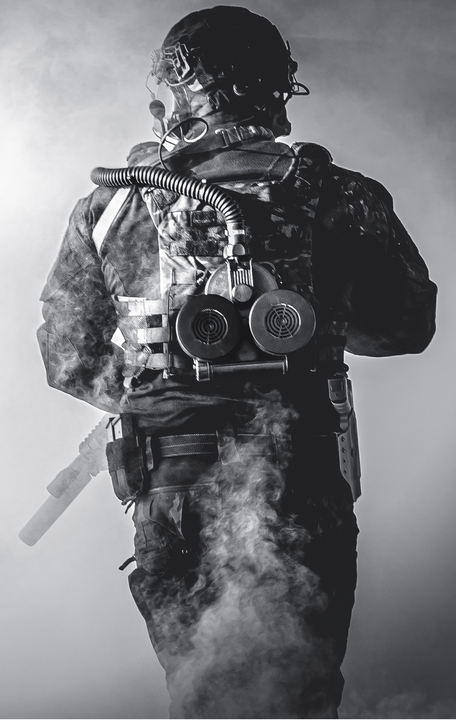 OUR 

MISSION
Our story doesn't matter. This isn't about us. It's about YOU.
Your Story matters.
You see in us something that you want to be able to add to your story. Something to make a part of your ability to navigate times of crisis and stress. 
Our mission is to assist you in adding that to your skillset, so that it can become a part of Your Story.
At the Iridium Group, we are committed to making the world a better place for each of you – our clients, by providing knowledge, skills and equipment that you can use and incorporate to become the hero in the story of your life.

WHY CHOOSE

THE IRIDIUM GROUP

AS YOUR PARTNER IN PREPAREDNESS?

COMFORT & FLEXIBILITY
Some things are meant to be comfortable - some are meant to be COMFORTING.
QUALITY MANUFACTURING
Products that Perform in Harsh Conditions.
TRUSTED BY PROFESSIONALS
In use by Professionals around the Globe.
FIELD PERFORMANCE
Hard Use Gear, Tested and Vetted in the field.